De ondertitel van dit blog luidt: 'harboring the best collection of car news and media'. Dit slaat op het achtergronddoel van alle artikelen; namelijk het naar voren brengen van dat nieuws en die reviews die naar onze mening echt de moeite waard zijn. De nieuwe Mazda 3 is zo'n auto die perfect in overeenstemming is met dat doel. Hij ziet er geweldig uit, rijdt bovengemiddeld goed, en is voorzien van revolutionaire techniek. Dit alles zou voor de nieuwste generatie nog meer op moeten gaan. Waarom, lees je hieronder.
De lezer mag best weten dat wij van AutoExperience een zwak heb voor het huidige Mazda. Dat heeft alles te maken met het Kodo design. Het zijn gewoon echt aantrekkelijke auto's om te zien, zeker in de 'signature' kleur Soul Crystal Red. De nieuwe 3 is laag, breed, en barst om te zien van de dynamiek. Waar de vorige generatie op het laatst wat bedaagd over kwam in de kalere uitvoeringen, is daar nu bij design generatie 7 geen sprake meer van. De lokale dealer had een Comfort uitvoering staan, dat is de middelste versie, en je zag er niet aan af dat er nog een versie boven staat. Alleen het 16 inch lichtmetaal met vrij dikke banden verraadt hem misschien. Mazda begrijpt goed dat als je 30 mille stukslaat op een auto, hij er gewoon goed uit moet zien. In tegenstelling tot bepaalde producten van Volkswagen (& Co), waar je rond die prijs vooral geconfronteerd wordt met het feit dat je te gierig was om nog voor 10k aan opties aan te vinken.
De achterzijde is in alle gevallen voorzien van een zichtbare dubbele uitlaat op de hoeken, een pianolak zwarte onderbumper, en dito spoiler. Het laat zich op papier lastig vatten maar de auto komt in real life echt heel dik en sportief over. Dit gaat in wat mindere mate op voor de sedan-verie, die vanaf medio dit jaar ook naar Nederland komt. We gokken dat Mazda deze versie vooral voor de VS ontwikkeld heeft, wie weet vindt 'ie in Nederland aftrek onder de wat oudere doelgroep.
Mazda maakt van de gelegenheid gebruik om ook het hele interieur naar een hoger plan te tillen. Het is duidelijk weer van een nieuwe en betere generatie dan bij de andere modellen in het gamma, die nog onder 'generatie 6' vallen. AutoExperience verplaatst zichzelf dagelijks onder meer in een  MX-5 van modeljaar 2017, maar het materiaalgebruik in de nieuwe 3 is absoluut beter. Veel harde delen zijn nu van zacht kunststof en dikwijls overtrokken met fraai gestikt leer. Ook in de portieren, waar we vaak zien dat bezuinigd wordt op de kwaliteit, is het dik in orde. De bedieningselementen zoals de stengels achter het stuur, de knopjes voor ruitbediening en airco, en de HMI commander voor het infotainment zijn eveneens luxer uitgevoerd. Dat infotainment is voortaan gekoppeld aan een breder scherm, maar we hebben het nog niet kunnen testen. De optionele BOSE audio speakers zijn gevat in fraaie delen geborsteld aluminium, wat lijkt op de manier waarop Volvo dat doet met het Bowers & Wilkins systeem. Het stuur kan voortaan verwarmd worden, de binnenspiegel is op niveau Luxury randloos uitgevoerd, en zaken als een head-up display en adaptieve cruise controle zijn standaard. Een klein kritiekpuntje is het optionele leder op de stoelen, dat ziet er wat simpel uit qua textuur en stiksel. Wij zouden het niet aanvinken.
De techniek op de nieuwe Mazda 3 is veelbelovend, maar het beste komt nog. Dat is de gehypte SkyActiv-X motor, die het goede van een diesel (veel koppel en een laag verbruik) moet combineren met het geluid en het toerenbereik van een benzinemotor. Deze krachtbron is echter nog niet leverbaar, maar volgens de dealer wordt de meerprijs ten opzichte van de huidige SkyActiv-G motor zeer acceptabel (circa €1000) door gunstige BPM-beprijzing. De nu leverbare tweeliter motor is prima, maar met 122pk verder niks bijzonders. Wij zouden wachten op de SkyActiv-X, dat is zeker. Hij komt in het najaar. Een diesel is trouwens ook leverbaar, al dan niet met zestrapsautomaat.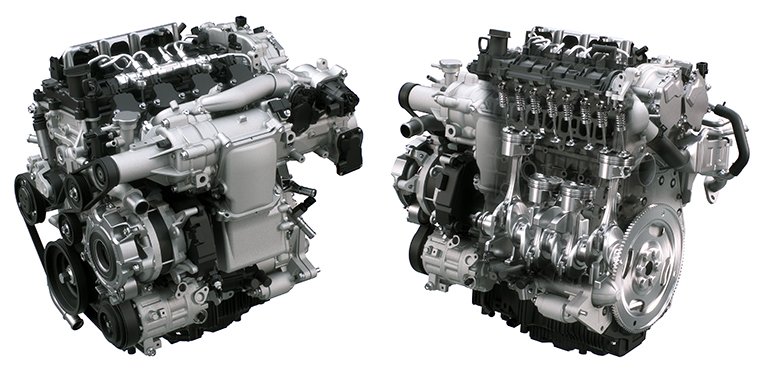 De vraag is, of dit alles de nieuwe Mazda 3 de beste keus in het reguliere c-segment maakt. Daarvoor zullen we de auto echter eerst moet rijden, en dan bij voorkeur met de SkyActiv-X motor. Op papier en uit onze showroom-ervaring kunnen we echter al zeggen dat kopers in dit segment in ieder geval ook zeker even langs de Mazda showroom moeten; want de auto lijkt goed genoeg om mee te doen met de top. Het zal erom spannen of 'ie uiteindelijk net zo goed blijkt als de nieuwe Focus, onze huidige nummer één, maar de kaarten lijken goed.