'Lighter, quicker, sportier. Even more fun'. This particular quote is the headline of the Suzuki Swift brochure, which is lying right in front of me. The car has been on European markets for a few months now, but I never really had the chance to take it for a spin. Recently I got that particular opportunity and I wouldn't let the readers of this blog miss out on the chance to read my opinion about it. To get one thing out of the way before hitting of; I'm planning to do a dedicated review of the Swift Sport in the near future, so this testdrive will only cover the regular line-up.
The old Swift was actually quite a decent car when it launched, but that is literally more than a decade ago (the small facelift in between doesn't really count imo). Therefore, it became obsolete when compared to more modern competitors. Suzuki had thus quite the challenge to re-invent its once so popular b-segment car. Styling wise, the car remains close to its roots. It's definitely a 2018 car, but the changes are smaller than other brands in the segment saw happen over the past years, most prominently the Volkswagen Polo and Renault Clio.
Suzuki is offering quite a decent line-up for the model, and we'd like to start off by advising against the CVT and automatic options. These simply are not modern enough to be meaningful and do the lively character of the car no good. Then the two engines; there is choice between a 1.2L atmosferic four cylinder with 90 hp or a 1.0L turbocharged 'Boosterjet-engine' with 112 horses. Our testcar had the four pot variant, which is a bit cheaper to get, but if you got the choice we'd opt for the Boosterjet. The atmosferic engine feels like a dinosaur; its low end power is poor and even when pulling it through to 5000 rpm the acceleration is still disappointing, let even alone the appalling soundtrack. Don't get me wrong; it will do on a city car performance wise but for anything more, and the Swift can definitely handle more, the turbo engine is better. Also for highway use and the high speed overtaking that involves. A downside is that both don't come with a six speed.
Suzuki additionally offers a mild hybrid system on both engines (called SHVS) but we're told it only exists to bring down Co2 emissions and offers no real added value for the cost it implies. In theory; it should boost acceleration from the battery, while recharging when braking. Though we really weren't able to notice any added punch when flooring the 1.2L and therefore would advise to keep the change in your pocket.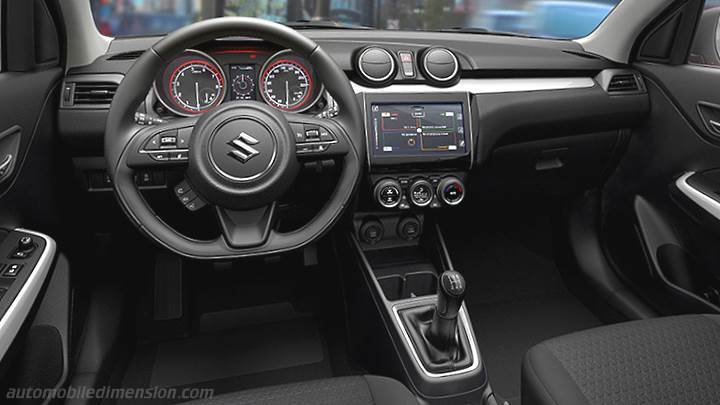 In the cabin, there are few things to notice immediately. First, the seating position is a bit high for a sportier car, and the seats too flat. It would be nice to have to option for more supportive and lower buckets. Second; the headroom is excellent. The Swift is quite a high car and that translates to an abundance of room for taller people. I'm 1.92m myself and was really surprised to see the amount of space left, also in the rear. Then build quality and use of materials. Suzuki made large steps in this department when comparing to other cars from the brand, but it's still not the nicest in class. The steering wheel, when you got the leather option, feels great to the touch but the upper parts of the door cards and lower parts of the dash not so much. Still, because Suzuki did a good job using modern looking plastics and designs, and additionally making sure the panels don't leave large gaps, it's passable.
Ergonomics are decent, most things are where you expect them to be. A/C controls are pretty straightforward (they look extra nice when going for automatic climate control!), the infotainment menu structure is clear and the system is quite fast, and so is the onboard computer in the gauge cluster. All driver assistance systems (quite a few, good job Suzuki) are easy controlled from a row of buttons to the left of the wheel. Less impressive are the heated seats having only one measly preset (on and off) and the feel of the transmission. The lever is positioned too low and it feels like it's stuck to some loose rubberbands when using it. Clutch in return is okay. Steering feel is even better, combining light operation with a confident feeling you're actually controlling the front wheels, which is not always the case in this segment (looking at you Citroen).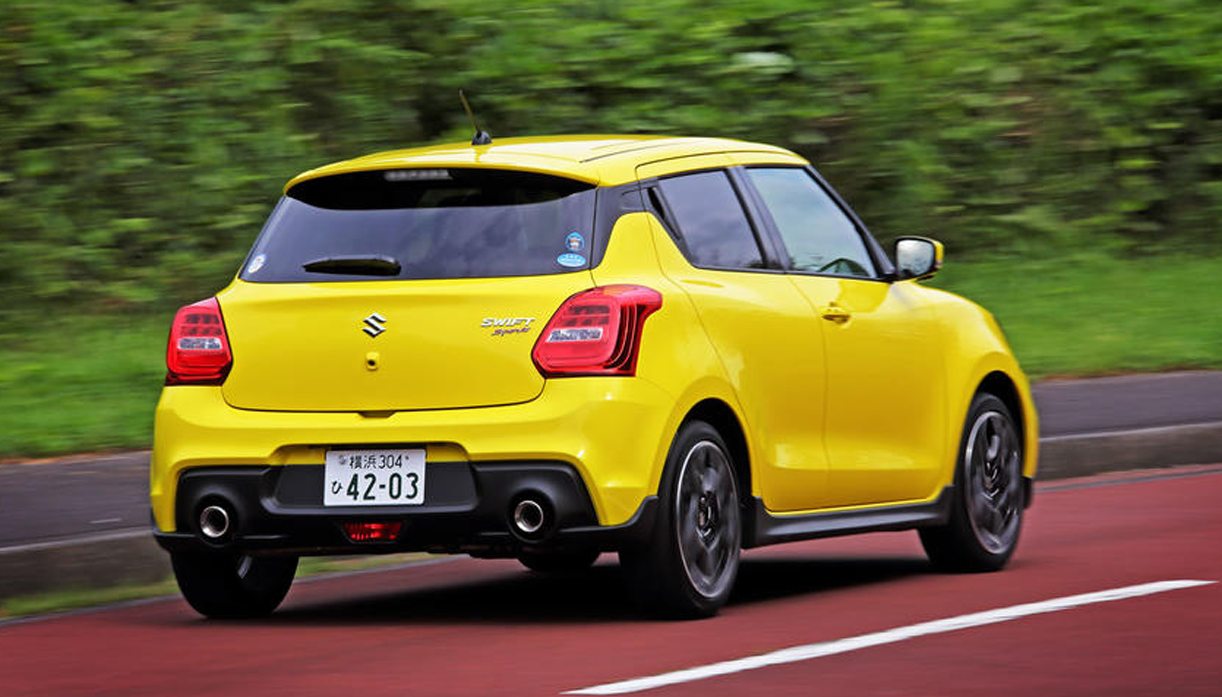 Another thing Suzuki is doing right with the swift is the kit it comes with. It's simply available with everything you could possibly want in 2018, ranging from adaptive cruise control and lane keeping aid to city emergency braking and wireless charging pads for your phone. Of course it doesn't all come standard on the cheapest version, but it's available if you're willing to pay a modest amount of money for it. Our advise on the version you should pick? Well, we think you should either go for the basic 1.2L in Comfort trim (€15.500) or invest a bit more in a midrange 1.0L Boosterjet Select (€18.300). Normally, we advise against going for the most basic trim because they're generally versions so poor equipped that they only serve to pose with a small sticker price and nothing else. But in the case of the Swift, for the named price you already get manual A/C, audio, electric windows & mirrors, a leather wrapped steering wheel, and a board computer. The Select adds items like 16″ alloys, a rear view camera, 7″ infotainment, heated seats, and a sportier front grille.
Wrap-up:
+ 1.0L boosterjet engine                                                                                                                      + handling                                                                                                                                               + available kit (both luxury and driver assistance)
— no six speed manual available (except on Sport)                                                                        — seats and seating position                                                                                                                — gear lever position and feel