Last week I visited the local Mercedes-Benz dealership in order to check out the all-new 2019 A-Class, a car I wanted to examine a bit more closely for a few months now. With every new car or new rendition of an existing car, it is always interesting to see where the carmaker placed the focus, and with the A-Class, that is very clear. All research and development went towards the new MBUX (mercedes benz user experience) system, a new generation of infotainment with the same looks as the large screens we already know from the S- and E-Class but with a few changes.
Exterior wise, the changes are rather small. New lights, bumpers, a bit more length and width, nothing too exciting. The new dimensions caused interior space for rear passengers and boot volume to grow, and the suspension was adjusted to be more comfortable. Engines are all four cylinder powertrains again, developed with or borrowed from Renault.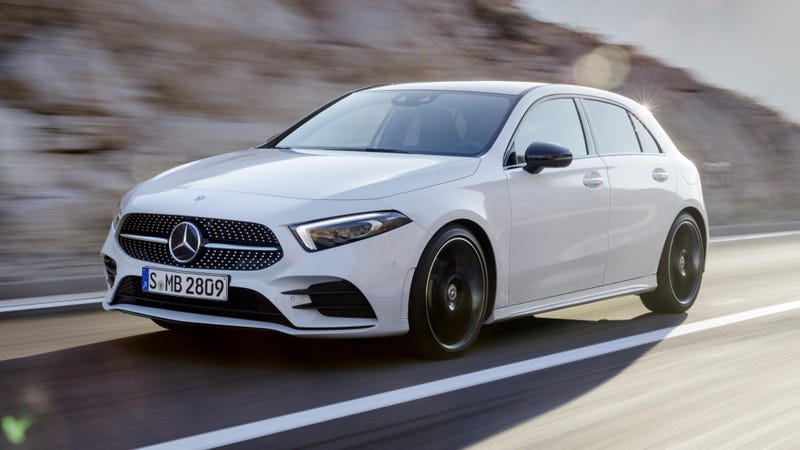 But again, the real news is in the cockpit. Mercedes swapped the traditional gauge cluster with the iPad-like navigation screen in the middle for a new setup of dual 7 or 10 inch screens, depending on how much money you want to leave at Mercedes. The steering wheel features a lot more buttons too, maybe becoming a bit too crowded even, but that is my own opinion.
What Mercedes rightfully claims, is that the new A brings the funky systems of the most expensive models like the S and E right to the premium C-segment. Of course, the base versions only get a very modest part of these systems, but at least they are available. Something Audi and BMW cannot say, since their offerings in the segment are running on their last legs. When going all-out and speccing a car which probably costs around 50 grand in Euro (without even the most powerful engine) you can have kit like:
Heated, ventilated, and massaging seats
Burmester audio
A 10″ high resolution digital gauge cluster with different presets (although it didn't seem as configurable as Audi's virtual cockpit)
An additional 10″  high-res navigation and infotainment display right next to it (again, standard both are only 7 inch and show only one gauge, in a similar way Volvo handles it)
Head up display
Touchpad, touchscreen, and pretty decent voice controls ('hey mercedes' is enough to launch the whole operation)
adaptive cruise control, lane keeping aid, blind spot monitoring, and (!) automatic lane changing
A nifty feature called augmented navigation showing digital floating traffic signs on a camera feed in the right screen, making it impossible to miss a turn
carplay/android auto, inductive charging, and probably every other way you could possibly imagine to connect your phone to the system
Is there then nothing to left to complain about with the new car? Well, as with almost all premium cars, there is. The problem is the best features are hidden in expensive option packages staging at least 4 or 5 grand. This makes it simply impossible to pick a base model and fit it with the tech you would personally like, but leave things out you don't car about. This is a pity, since it makes the car less attractive to the regular, non-leasing, buyer. You can pick up a new A160 for around 30 grand, but having both exterior and interior look a bit less stale would cost at least 8k more (for the Progressive pack and the AMG-line pack). This could be improved, by creating packs featuring only the best options (like the satnav, 17 inch alloy wheels, adaptive cruise, the larger screens, and heated seats) but not all of them.